Motor Control Equipment & Custom Power Distribution Equipment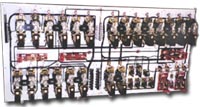 Duplex 250VDC Control
AC Power Distribution Equipment
Upper left side CT compartment, Lower left side lighting & receptacle contactors, Right side Power distribution, NEMA 4X Aluminum Enclosure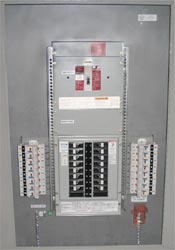 TCII / NTCII Fuse Switch Panelboard
200 Amp Main Beaker, 16 - Fusible Branch Circuits, NEMA 1 Enclosure, Door in a door construction. (inner door for switch handle access, outer door to expose fuses.
•AC and DC panelboard
•AC and DC switchboards
•Custom power distribution equipment
• AC Variable Frequency Crane Control
• AC Industrial Duty Crane Control
• AC Clapper Control
• AC Magnetic Mill Duty Crane Control
• DC Magnetic Mill Duty Crane Control
• DC Industrial Duty Crane Control
• DC to DC Drive Control
FILNOR SPECIALITIES
• Battery Backup Systems
• Machine Control
AC Crane Control 1.45 MB

DC Crane Control 1.85 MB

Crane Auxiliary 379 KB

Pendant Stations 750 KB
APPLICATION
Filnor designs and manufactures AC/DC electric motor controls and related accessories including pilot control devices, festoon systems and magnet controls.
Engineering is a critical part of our business. We have the experience and expertise in designing systems to meet your specific requirements. Whether a custom application or a pre-engineered package, Filnor's engineering staff is always at your disposal.
A customer views upon every order that is placed with Filnor Inc. as an investment. Filnor maintains our customer's investment by giving complete technical support throughout all stages of their project. We depend on our customers, therefore, we look forward to our customers depending on us for all related questions that might arise during, and after, a project. Customers feel at ease knowing that complete technical support is only a phone call away.
Filnor provides customers with the most comprehensive and responsive service in the industry we serve. Filnor is ready to provide Parts and Service whenever needed. If field service is required Filnor coordinates all customer service requirements such as parts, engineering, and emergency service in a quick responsive manner.
Filnor is a company dedicated to quality. Every product is thoroughly tested to its specific requirements and then documented.