POWER DISTRIBUTION EQUIPMENT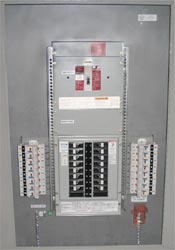 NTCII Panelboard
200 Amp Main Breaker, 16 - Fusible Branch Circuits, NEMA 1 Enclosure, Door in a door construction. (inner door for switch handle access, outer door to expose fuses
Filnor, Inc. is a leader in custom and commercial power distribution equipment for many industries:
• Aerospace
• Banking
• Communications
• Data Processing
• Electronics
• Government
• Medical
• Military
• Petrochemical
• UPS Power / Distribution
• Utilities
• Waste Water / Sanitation
Panelboards and Switchboards Users List
Ohio Power Systems Distribution Panelboard
Danaher Power Systems Distribution Panelboard
Verizon Switchboard
LTI Power Systems Distribution Panelboards
Zachry Construction Distribution Panelboard
Flint Resources Distribution Panelboards
Stone & Webster Distribution Panelboards
Honeywell Distribution Panelboards
Exxon Distribution Panelboard
Englobal Distribution Panelboard
Kirby Risk Distribution Panelboard
Minnkota Distribution Panelboard
Gutor Distribution Panelboard
Powell Switchboard and Distribution Panelboards
McMinnville Electric Distribution Panelboards and Control Panel for
Streetlighting
Zavala Inc Distribution Panelboards and Control Panel for
Streetlighting
BVJ Rhode Island Distribution Panelboard
Decatur Energy Center Distribution Panelboard
Allegheny Energy Supply Company Distribution Panelboard
BVZ Power Partners Brazos Valley Energy LP Distribution Panelboard
Contacts are available if requested
Power Distribution Equipment
379 KB
Panelboards Index
83 KB
Power Supplies
518 KB
AC/DC Switchboards
10.5 MB
CDP Panelboards
739 KB
DC Crane Control
1.84 MB
FDP Panelboards
447 KB
NTCII Panelboards
1 MB
NLAB Panelboards
745 KB
Panelboards Switchboards Reference
30 KB
Cabinets Boxes
3.41 MB
AC Power Distribution Equipment
Upper left side CT compartment, Lower left side lighting & receptacle contactors, Right side power distribution, NEMA 4X Aluminum Enclosure
PANELBOARDS EQUIPMENT DESCRIPTION AND SPECIFICATION
(Formerly Cleveland Switchboard Products)
Since 1907 The Cleveland Switchboard Company has been designing and manufacturing AC and DC electrical power distribution equipment, which Filnor Inc. will continue as a result of the acquisition. Our AC and DC power distribution systems meet rigid quality control specifications that will ensure dependability and safe long-term performance. All systems carry the Underwriter Label and use Underwriters Laboratory listed components.
PANELBOARD STANDARDS AND CUSTOM DESIGNS
Type Description
NTCII Fuse Switch Panelboard:
• Faster circuit interruption than standard magnetic breakers
• Protection by fast acting fuses.
• Encased fuse blocks with blown fuse indicating lights.
NLAB Narrow Box Lighting Appliance Bolted Circuit Breaker:
• Protection for lighting and appliance circuits for commercial and industrial establishments
• Copper bus 1000 ampere per square inch
• AC Systems – 240 volt maximum
CDP Convertible Distribution Panelboard:
• Protection for lighting and appliance circuits for commercial and industrial establishments
• Copper bus 1000 ampere per square inch
• AC Systems – 600 volt maximum
• DC Systems – 250 volt maximum
FDP Fusible Distribution Panelboard:
• Protection for switch feeder and branch circuits in commercial, industrial, and service entrance applications
• Copper bus 1000 ampere per square inch
• AC Systems – 600 volt maximum
• DC Systems – 250 volt maximum