Transit Trackside Equipment
RAIL ISOLATION SWITCH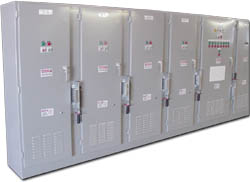 DC SWITCHBOARD
1000 DC Volt, Switchboard Lineup, Transit Application, Maintenance Facility, PLC Logic, Switch, Fuse, Contactor
DC SWITCHBOARD
1000 DC Volt, Switchboard Lineup, Transit Application, Maintenance Facility, PLC Logic, Switch, Fuse, Contactor
RAIL DISCONNECT SWITCH
1000 DC Volt, Contactor Fuse Assembly, PLC Logic, NEMA 4X Enclosure
RAIL DISCONNECT SWITCH
1000 DC Volt, Contactor Fuse Assembly, PLC Logic, NEMA 4X Enclosure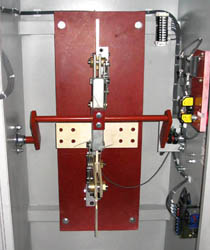 TRANSFER SWITCH
1200 Amp, 1500 Volt, Manual Operated, Transfer Switch, Key Interlock System
• Third Rail Isolation Switches
• Substation Switches
• Earthing Switches
• Trolley Disconnect
• Transfer Switches
• Dc Switchboards
• Rectifier Disconnect Switches
RAIL ISOLATING SWITCHES
Third rail isolating switches are used on the main line to allow transit cars to be isolated and bypassed under emergency applications. Switchyard isolating switches disconnect the power for car maintenance. Filnor standard switches range from 600 amps through 12000 amps and voltages up to 2000 volts DC. The switch is generally housed in a NEMA 4X enclosure with a viewing window. Filnor switches are weather proof and maintenance free.
Variations and accessories are available including:
• Auxiliary contacts for remote switch position indication
• Padlocking
• Key interlocks
• Manual, motor, pneumatic, or remote operator.
Contact Filnor for additional availabiliity
SUBSTATION SWITCHES, EARTHING SWITCHES, TROLLEY DISCONNECT AND TRANSFER SWITCHES
Filnor provides a large range of switches for transit substations. The transit switches are used for isolation of various circuits. Filnor's standard switches typically range from 30 amps through 12000 amps and voltages up to 2000 volts DC. Filnor provides the switches either open style for panel mounting or housed in an outdoor enclosure. Filnor has also provided earthing switches, trolley disconnects and transfer switches for various transit projects.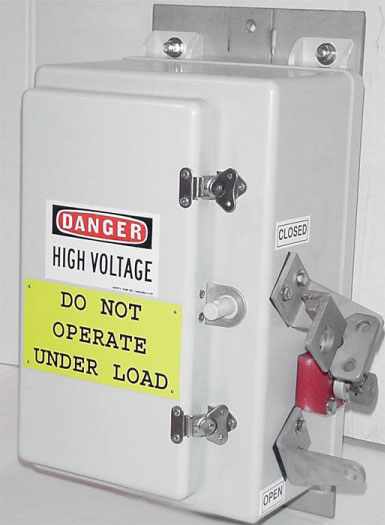 TROLLEY LINE DISCONNECT SWITCH
600 Amp, 1000 Volt, One Pole, NEMA 4X Enclosure
RAIL HEATER DISCONNECT SWITCH
200 Amp, 1000 Volt, One Pole, NEMA 4X Enclosure, Viewing Window, Spring Operated