Transit Products
Filnor, Inc. Transit Products are designed, manufactured and tested for the ultimate in safety, reliability and product life.
References Available Upon Request
Filnor provides a large range of switches for transit substations. The transit switches are used for isolation of various circuits. Filnor's standard switches typically range from 30 amps through 12,000 amps and voltages up to 2000 volts DC. Filnor provides the switches either open style for panel mounting or housed in an outdoor enclosure. Filnor has also provided earthing switches, trolley disconnects and transfer switches for various transit projects.
Filnor resistors can be used on light and heavy rail vehicles or trackside braking. Filnor offers a complete line of standard braking resistor packages for 230, 460, 575 Volt Drives or Braking Resistor Packages per your requirement.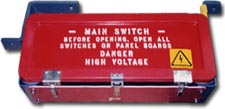 Filnor manufactures switches for light and heavy rail transit vehicles. The switch is the main disconnect from the third rail power to the propulsion and auxiliary circuits.